The Ultimate in Sound and Appearance
---
Each instrument is incomparable, having its very own character, its distinctive sound. It is my endeavour to shape and consummate that sound, and to make of each instrument not only a visual, but also a true acoustic happening.
---
Choosing the Wood for Sound
At the beginning of the procedure: the selection of the wood. For my instruments, I use none other than acoustic wood seasoned for decades and of the highest quality. Many of these splendid pieces of wood are from the inventory of past violin makers and can be up to a hundred years old.
Craftsmanship at 10ths of a Millimetre
I work entirely by hand—down to the finest detail. In addition to profound knowledge in the work of the old master makers, there is much handcrafting skill, extensive experience, and sensitivity and intuition which is required in order to fashion acoustic refinements. When structuring the arching, mere tenths of a millimetre determine the character of a stringed instrument, and since wood is a naturally-grown substance with its very own characteristics, it must be individually crafted in order to reach the optimum result.
---
There are no two pieces of wood that can be worked on in the same way, not even if they have been cut from the same log.
Varnish from Old Handed-down Formulas
After the instrument has been constructed, the protective varnish is applied. It awakes the wood to new life and influences the instrument's colour and sound. I make the highly flexible varnish myself from choice types of resin according to vintage recipes. Thinly applied with a brush, it imparts to each instrument its very particular beauty.
Playing-in and Adjustment
Before my instruments leave the studio, they are tested once more by experienced musicians for prime acoustical and handling characteristics, and I adjust them to the optimum.
Stringed Instruments and Bows of Accredited Master Artisans—From One Studio
The noted Certified Master Bow Maker Sebastian Dirr has been attending to bow artistry in my studio since May, 2016. This results in our clients finding both a violin maker and a bow maker in one studio. There are many advantages for our clients, and we craftsmen also benefit, because we are noticing that our collaboration is having a harmonious and inspiring effect on ourselves.
Should you be interested, I can also offer you the bows of other well-known Masters of our area (Gabriel, Grünke, or Dörfler, for example), as well as all other accessories you might require. Just let me know what you would like, on the phone or by E-mail, or make an appointment for a trial in my studio. You are very welcome here.
Repairs, Restoration, and Optimum Sound
Maybe you would like to have a damaged instrument professionally repaired or restored?
With my help, it will soon recover its former magnificence.
Or you want to get the best possible sound out of it?
No problem. I will be glad to take care of that too.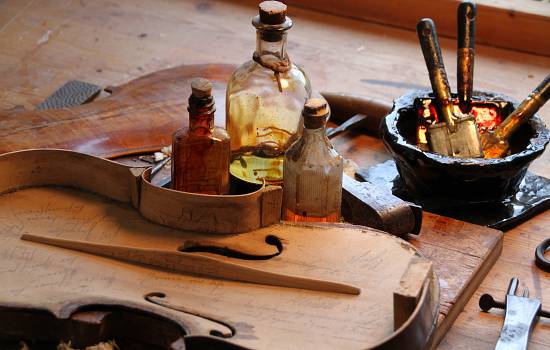 ---
Vintage Stringed Instruments and Bows
Are you trying to find a good vintage stringed instrument, or would you like to sell one? I am sure that I can assist you. My comprehensive expertise and my contacts are a decisive asset. I am constantly being entrusted with the exchange of attractive and rare masterpiece instruments. I would be glad to appraise your antique masterpiece instrument and find a suitable purchaser for you, or I can search for a specific instrument to suit you—discretely and confidentially.
---
The Bowed Stringed Instruments
of Günter H. Lobe
Would you like to know more? Here is where you will find my own masterpiece instruments and replicas. You will also see which models I make the most often.