Violin Crafting With Rigour and Passion
has earned many prizes at German and international competitions
The powerful eloquence, the profusion of tonal coloration and volume, the elegance and glamour of antique masterpiece instruments have always thrilled me. That is why I have intensively researched the luthiers whom I revere the most, I have attentively studied the design of the instruments, their peculiarities and acoustical characteristics, and I have specialized in the replication of well-known antique instruments. It is very rewarding to see that my work has been so well received. My instruments have won awards in many German and international violin-making contests.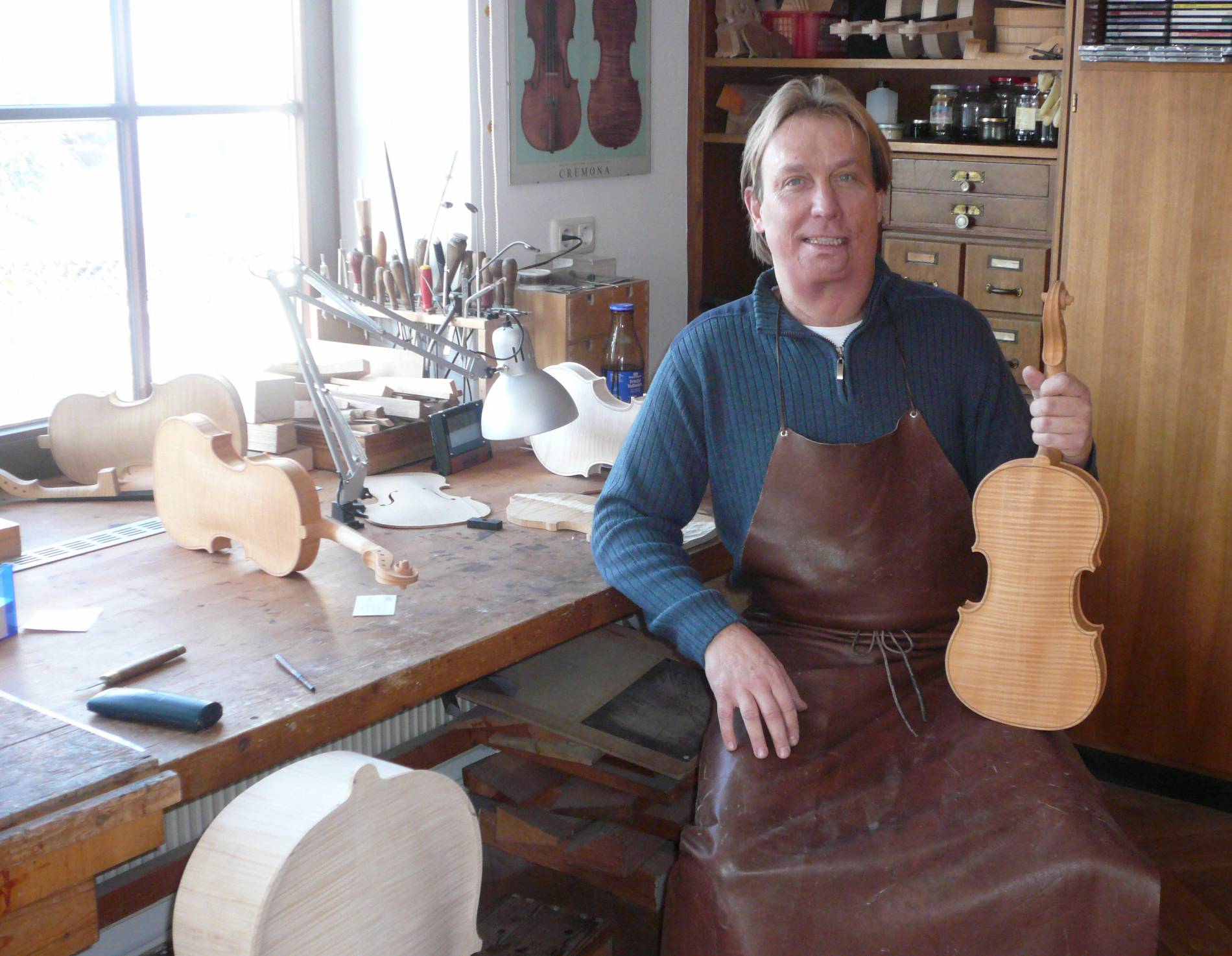 The Result is Important…
I need the exhilaration and I seek the challenge—every day. Those who rest on their laurels do not continue to evolve. There are always new things to learn, throughout one's entire life. It is a question of attitude. That is why constant communication with musicians is so important for me. What they find out in their daily use of the instrument is what gives me new ideas and brings me farther along.
---
The result is important, not the time and effort.
---
Contest Awards and Important Steps in My Career:

| | |
| --- | --- |
| 1961 | Born in Bamberg |
| 1977 | Violin Maker Apprenticeship in Bubenreuth and Mittenwald |
| 1980 | 2nd Place in the German national contest for young craftsmen (in crafts of all types) |
| 1987 | German Chamber of Craftsmen, Erlangen: I passed the Examination for Master of Violin-making, earning a special mention. |
| 1989 | Silver Medal for Violin, International Violin Contest in Mittenwald |
| 1991 | Member of the German Violin and Bow Maker Association |
| 1994 | Silver Medal for a Viola, 7th International "Antonio Stradivari" Violin Contest in Cremona |
| 1997 | Award for a Cello in the "Triennale Internazionale" for Stringed Instruments in Cremona |
| 1997 | Second Place for Cello in Acoustical Quality, Third International Violin Competition in Mittenwald |
| 1998 | Appointed to the jury for Master's Examinations, Chamber of Craftsmen, Erlangen |
| 1999 | A Replica of Antonio Stradivari's "Tullaye" earns great praise in the violin-making industry |
| 2001 | The Jacobus Steiner International Violin Contest: Special Prize for a Matteo Goffriller Cello |
| 2003 | "Triennale Internazionale" in Cremona: best German Master Violin Maker, category: violins |
| 2006 | Special Prize for second-best Violin (Guarneri model), at the 11th International Violin Competition in Cremona |
| 2007 | Completion of a true replica of "Il Cannone" of Guarneri del Gesu |
| 2008 | Elected "Obermeister" (Head Master) of the Guild of Makers of Stringed Instruments in Bubenreuth/Erlangen |
| 2020 | Faithful masterful copy of the violin "Lord Wilton" (Original from Guarneri del Gesu) |